Riding Together
You may start out your bike ride by yourself however, that may change when you meet your friends or other students on the way to school. Ride with friends or in large groups by: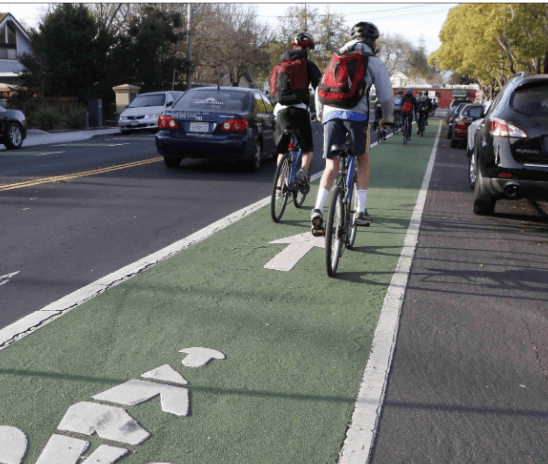 Riding with only one or two riders across and outside of the door zone so drivers can safely pass you (see photo above).
Riding predictably, in a way that others will know what you are doing ahead of time without making sudden movements. When you need to slow down, stop or make a turn say your "hand signal" out loud.
Saying "slowing or stopping" might feel strange at first, but the people behind you are less likely to crash into you if you use verbal hand signals as well as your regular hand signals.
Yelling out if you see obstacles like glass or a potholes and pointing them out to riders behind you.
Riding on the right and passing on the left.
Shoulder checking (looking behind you) to make sure it is clear to pass on the left, and always on the left.
Thinking for yourself. It can be easy for people in groups to follow what those in front of them are doing. This works well if everyone is riding safely, but dangerous if they are not. If you stop deciding and riding for yourself you could crash or cause someone else to crash.