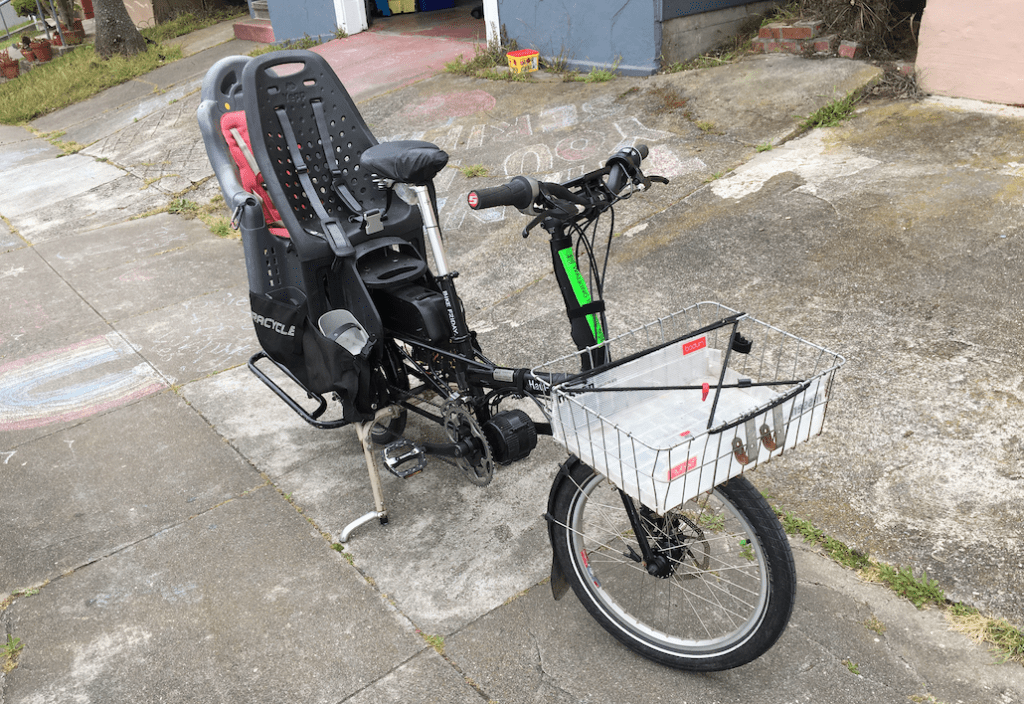 Originally Posted in 2015 and updated in 2020.
Way back in 1997 I worked for Bike Friday doing customer service. It was a truly amazing year I spent there working with customers, learning about lean manufacturing and bicycle fabrication. Since then I've ridden a Bike Friday folding bike in one form or another. When I learned that co-founder Alan Scholz (the man who is credited with designing the Burley Bike Trailer and Burley Rain Jacket) was dedicating substantial amounts of time to create a cargo bike model, the Haul-a-Day, I was elated.
We have one cargo bike already. It's a 26″ wheeled Civia step through frame with an Xtracycle Freeradical with a Bionx 350 watt rear wheel electric assist motor. "Superbike" as the kids call it has made fun, exercise, and parking effortless in most places for me. With that being said, it hasn't worked so well for my wife Helen. She's been concerned about the distance, hilly terrain and feeling confident carrying our 2 young children, and I'm not holding that against her. She is 5'1″, I'm 5'7″. I wondered, Wouldn't it be great to have a bike that fit her better. Wouldn't it be great to have a bike that could easily adjust to fit both of us? Wouldn't it be great to find a solution that would help have the option to go more places by bike. Hello, Walter at Bike Friday, let's talk about a Haul-a-Day solution for my family.
I ordered the frameset in late 2014 and over the next few months gathered different parts for our electric-assist, cargo, child carrying machine. Having a 20″ wheels meant I could have a lower center of gravity for loads, better hill climbing torque (especially when paired with an electric assist motor) and a stronger wheel. I decided on the Bafang BBS02 500 watt mid drive electric assist. Being a mid-drive motor it would be able to use the gears on the bike instead of delivering power the same whether headed up a hill or on the flats. Direct drive motors can be virtually silent, but they don't have gears. Gear are nice to have for going up big hills, hauling big loads and making the most of your battery. With the Bafang, I also liked that I could bolt it onto most any bike later on. The Haul-a-Day frameset arrived in February of 2015 and I finished the bike in May. I used a Nuvinci internal rear hub (which I got used from Bike Friday) because it could be easily shifted with the motor going vs. needing to shift a la motorcycle – power down motor, shift, the power up the motor with each gear change.
The build went forward smoothly despite typical delays. I tinkered after the kids were in bed and when I could spare the sleep. Warning: more bikey geekspeak to follow. I needed to order different brake sensors for the Bafang Brakes sensors aka the "kill switch" will shut the motor off when you use the brakes, a nice feature to have although the motor will shut off by itself after 2-3 seconds of you not pedaling. I wanted to run hydraulic disc brakes and their stock sensors were part of their proprietary brake levers which weren't compatible. I got around this by getting different brake lever sensors off of aliexpress.com and using epoxy to mount a washer which the magnetic sensor was able to detect. After setting the brake lever reach to fit my wife's smaller hands I was able to find the right positioning for the sensor through trial and error. The zip tie pictured below is helping to hold the sensor along with self-adhesive tape to the body of the brake lever/hydraulic reservoir.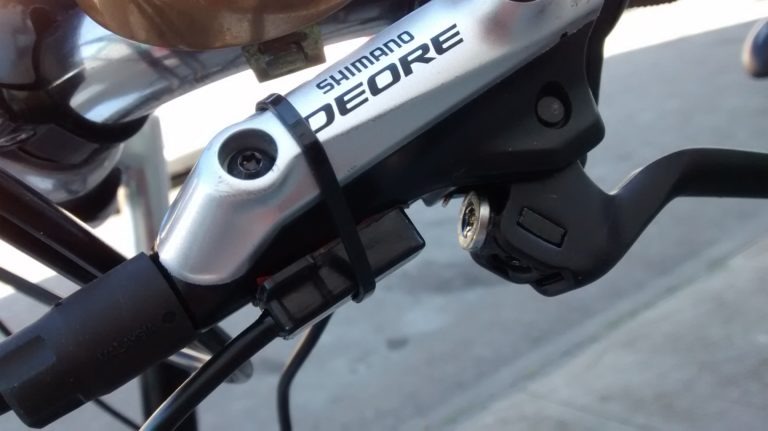 Thanks the internet I was able to find enough documentation to set up the Nuvinci hub and program the Bafang control unit. There were some other workarounds I did. I used an old road derailleur as a chain tensioner with the Nuvinci internal hub and used a section of wooden dowel to bridge the gap between the magnetic wheel sensor and the spoke mounted magnet sender for the Bafang.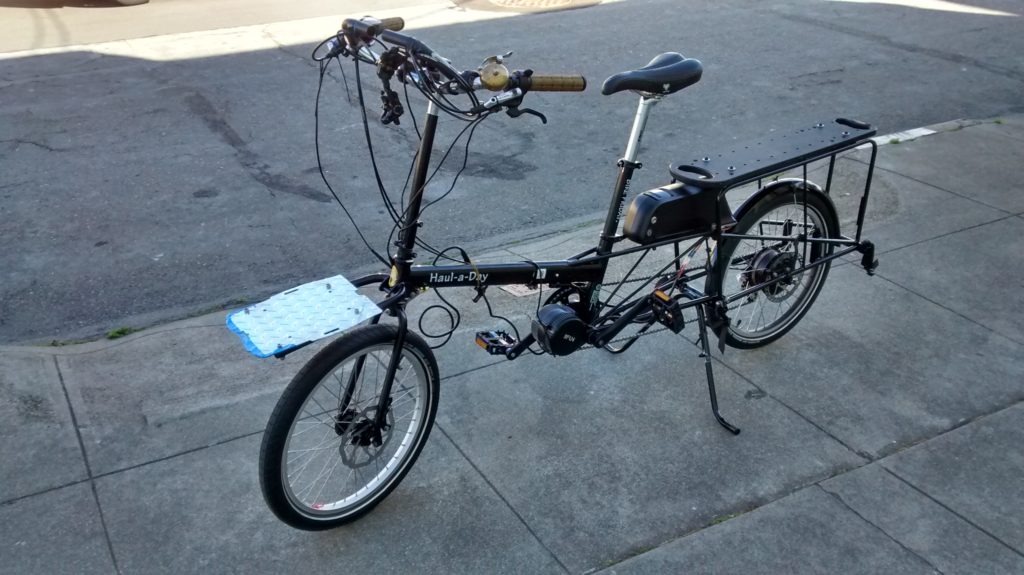 And after many late nights, here is the bike almost ready to test ride.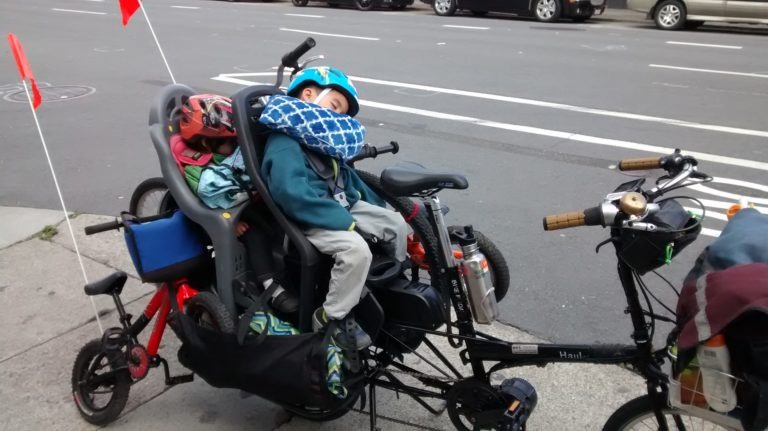 Jumping ahead. Here are my dear children sleeping. This is one of the main reasons I love cargo bikes. There are more reasons which I'll save for another post. For now, I'll say they are quieter than cars and help me enjoy additional silence as a parent while the gentle action of riding along while being cradled in their seats rocks sleepy children into their naps (for now at least). We bought this child neck support pillow on etsy.com for car rides, but it works better with the Yepp bike seat, which lacks napping child head support.
In summary, the bike build went well considering the unknowns of a new frame, hub and electric assist. The internet provided enough information for me to figure out the rest of the details. After all is said and done, The Haul-a-Day is a bike that easily adjusts to fit different sized riders, my children like it, and my wife Helen is comfortable riding it, which was the entire point of the project. But, how much can it really haul?
Here's a short distance run carrying our other cargo bike, my Bike Friday New World Tourist and a commuter mountain bike (other side of the bike).The Haul-a-Day side cargo racks are perfect for carrying front wheels and towing other bikes. This kinetic debacle worked fine for the 4 blocks I needed it to. I was laughing with delight and silliness while trying to carry so much, and despite the extreme side to side sway it worked out.
2020 Update
After 5 years of use with 2000 miles on the bike, here's the update.
I changed the rear cog from a 20 tooth to an 18 tooth which helped me get a slightly higher gear and better range per battery charge.
Later I bought an adapter so I could run a double front chainring and added a front derailleur. It takes some practice to time the shifting of it with the electric assist but it's workable. I know I can buy a gear sensor that will cut power when shifting, but it works well enough as it is. The DIY box with the wires coming out is a switch box to run 2 different e-bike batteries for extended range.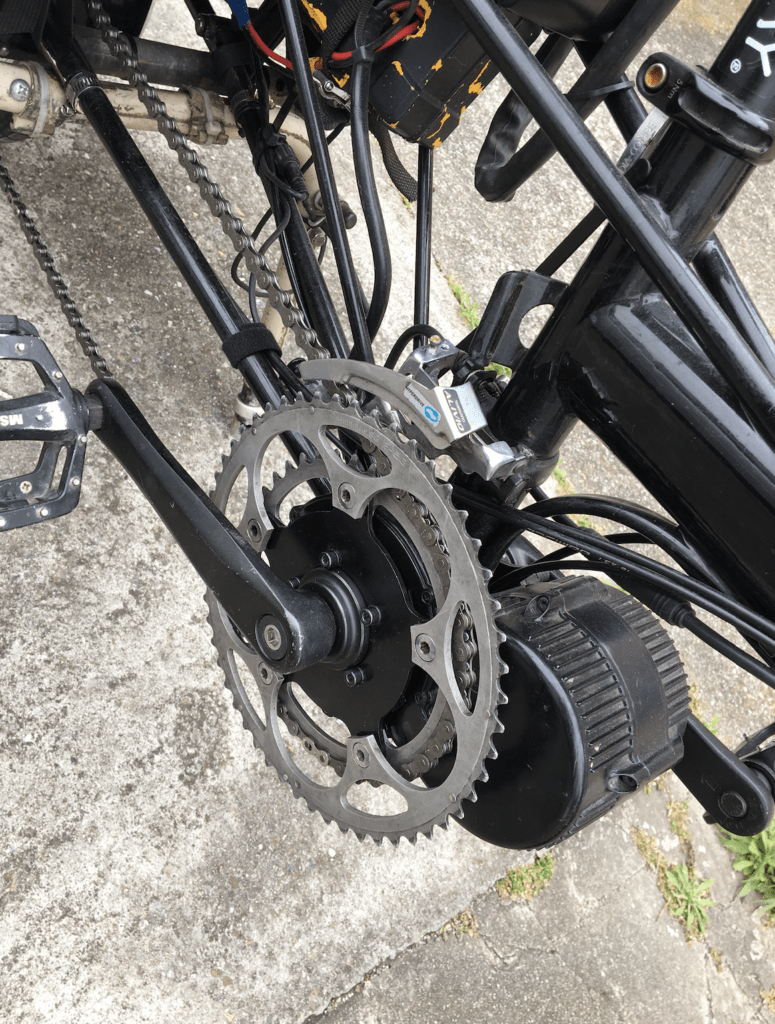 About a year in, the Bafang wiring harness shorted out from being moved and bumped around. This emphasized the need to keep wires protected and stresses on them minimized when doing the install. The bike kept wanting to ride off from being parked when I turned the handlebar a certain direction. That was unnerving but did add excitement in the short term. It was an easy fix and cost less than $30 for the harness. Other than that the motor system itself has been totally reliable. The Nuvinci, now Fallbrook hub has been great as well. No issues.
My epoxied brake sensor came unglued and eventually I went back to mechanical disc brakes with ebike levers with integrated kill switches. I love the basic Shimano disc brake calipers. Simple to set up, inexpensive, and reliable.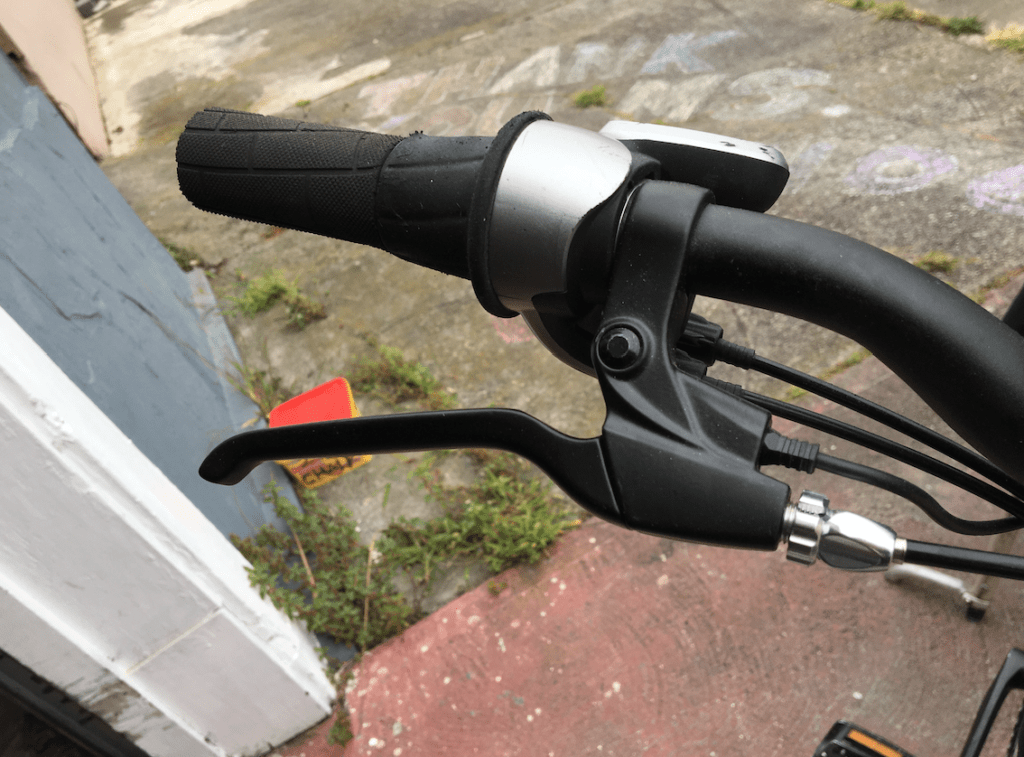 The stock $200 add on kickstand wouldn't support the weight of a child on a hill without spreading apart. That stock kickstand design is a major weakness to the Haul-A-Day. I hope they improve it.
I took up the challenge to make the kickstand more workable and rebuilt it two different times. The first time I got help to braze on wing-like side supports to help keep it from spreading apart, but that didn't work. Here's what is left of it now after it's been cannibalized and used for projects.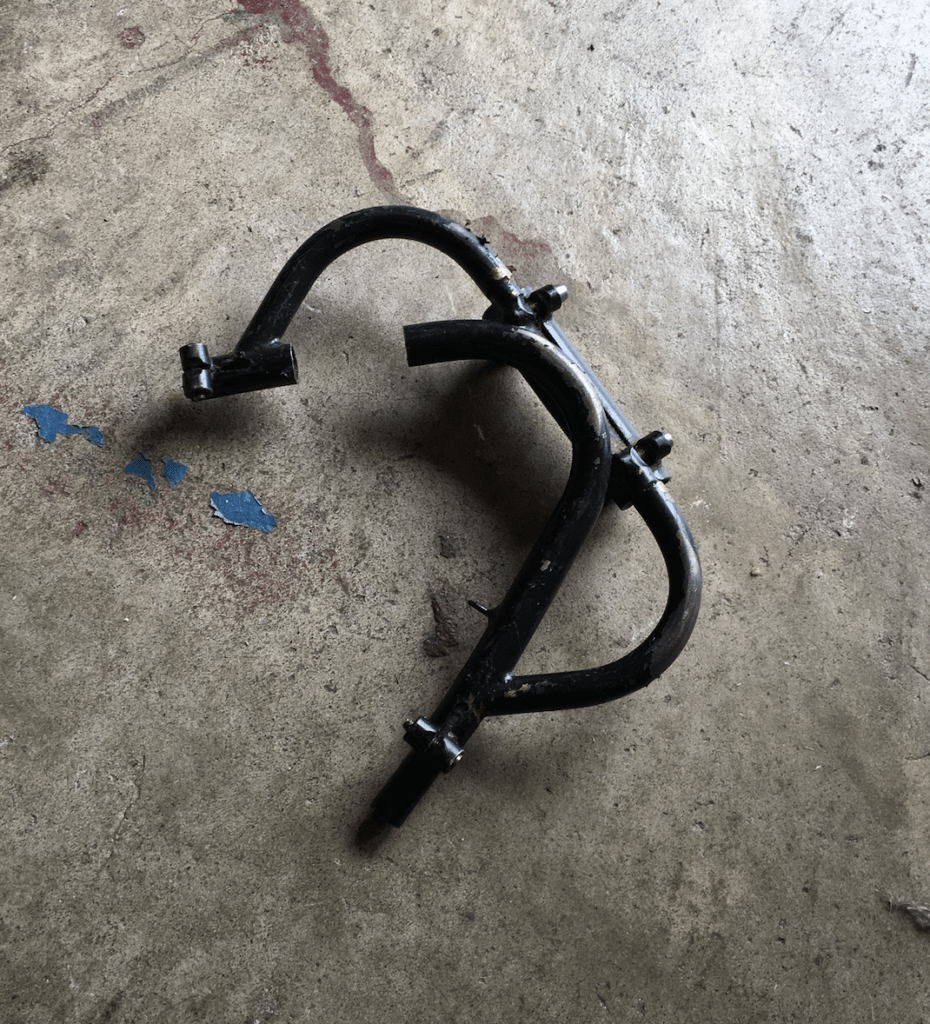 The second time I used parts from an exercise bike stand that I found on the side of the road to make a copy of the older Xtracycle Kickback double kickstand.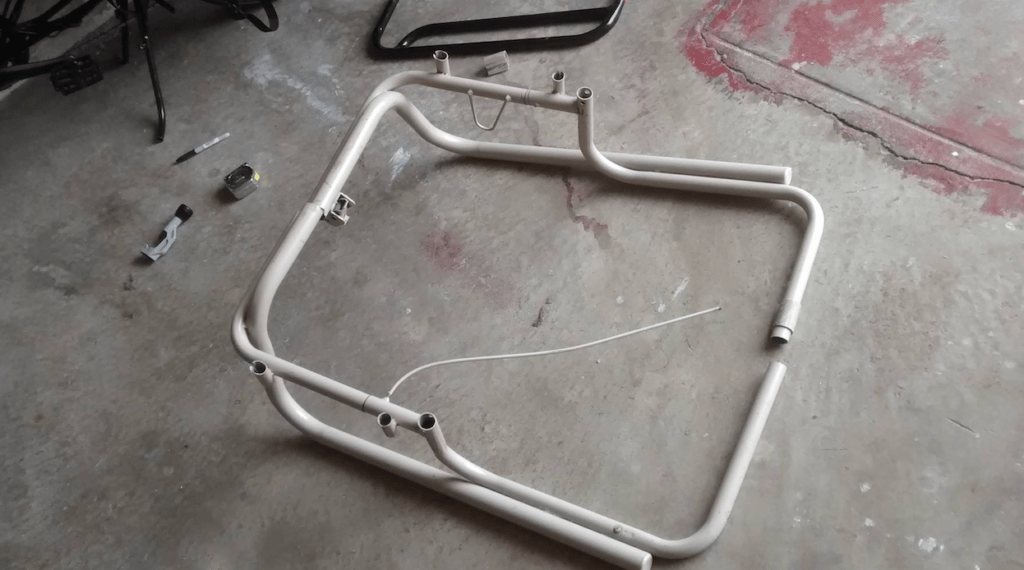 Here it is on the bike after 3 years of use. I didn't paint it because I liked the DIY "Wabi-Sabi" look of it. I didn't have easy access to a welder so I bolted it together. The black cord on the front can be used to more easily deploy it when the bike is loaded. Usually I reach a foot under to hook onto one of the side extending bar-ends and rock the bike backward to engage the kickstand. There is an elastic bungee cord that pulls the kickstand towards the rear and keeps it from dragging on the ground from its weight.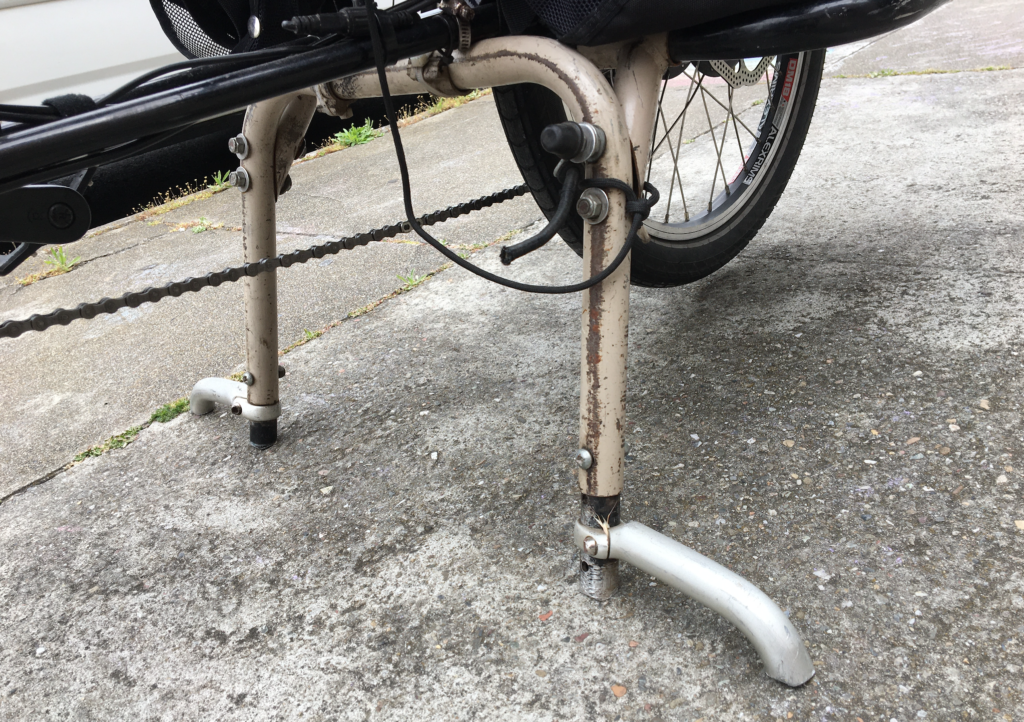 I made a rain cover setup for the bike using an old infant bouncy chair, windsurfing sail, zip ties and carabiner clips. It was great fun in inclement weather and pretty aerodynamic. You can see my daughter's pink helmet. Luckily my children weren't claustrophobic, and luckier still that they continued to be free of the fear of enclosed places after riding on the bike. Getting the children in and out was difficult, but not too bad. They are too big to fit now.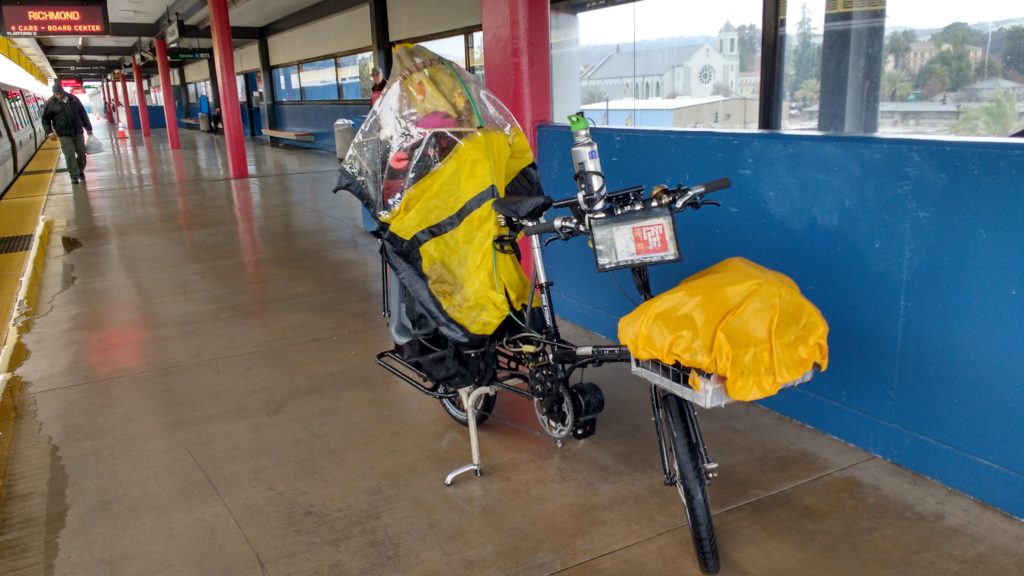 The other issue I've had with the bike is that it twists front to back a great deal. There are only 2 small bolts to lock the front and rear frame pieces together and it's not enough.
Rather than building a highly adjustable frame I would rather have a much stronger frame that could be adapted to different size riders through different stems and seatpost heights. That's how Xtracycle builds their Edgerunner framesets and it's good for manufacturing and works for the customer too. I know that the Haul-A-Day wouldn't be able to fit on a bus or car bike rack if this was the case, but I that's not how I'm using mine. Here is mine 5 years later.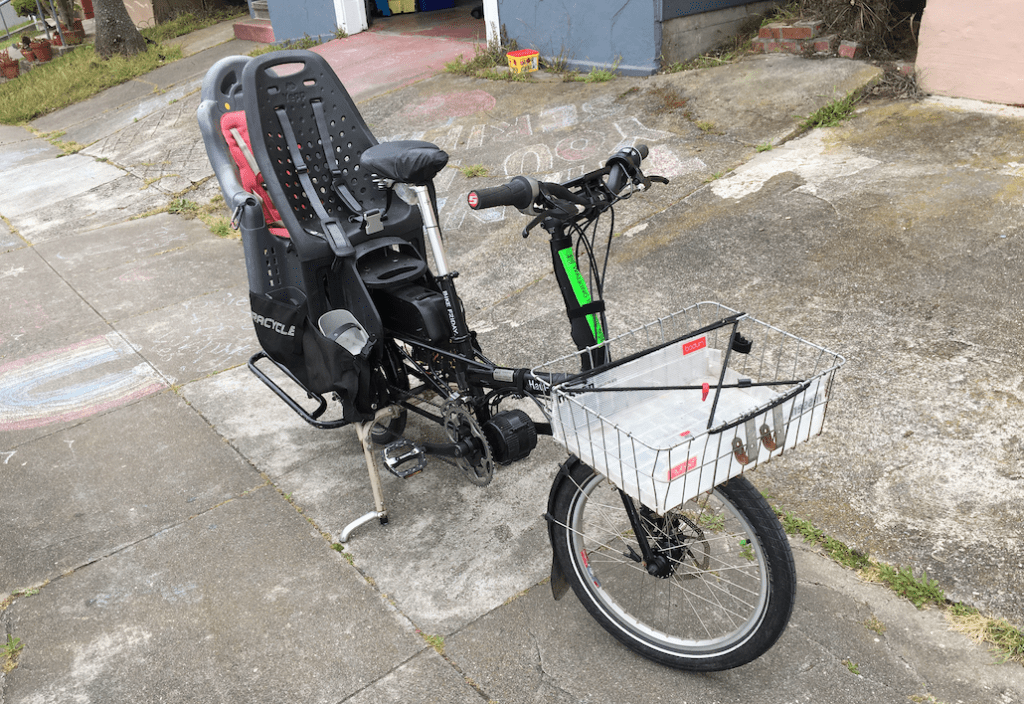 In addition, the Haul-A-Day frame design is adapted from their other successful designs, however, those other designs were not cargo bikes. The bike flexes and rides like a noodle when fully loaded. Even more when using the front cargo rack upgrade.
I do love the way the bike is laid out for cargo. It has the hauling capacity of a full-size cargo area in the length of a mid-tail. Now there is the Tern GSD line which takes this layout to another level of thoughtful design and still fits inside the front to back profile of a standard 2 wheel bike.
Bottom line: If your main purpose is hauling essentials and you have one child, then the Haul-A-Day can work well. If you need to haul more, there are other options out there. The Haul-A-Day is a well laid out bike that is highly adjustable. There as some improvements to make with increasing the torsional rigidity/reducing the "front to back twisting noodle" feel when loaded and a kickstand that is not an afterthought, but truly able to support a loaded bike without bending. On the positive, the company does an excellent job of serving their customers, are based in the US, and their leaders have brought the world amazing innovations. I'm talking about the modern bicycle trailer, cycling-specific rain jacket, and their Bike Friday folding bikes that ride incredibly well.