Congratulations! You're thinking of getting your 3-7 year old child a new bike. Here are 3 tips to help you through the process.
Find The Correct Size
2. Look Beyond Color
For some children, the color of the bike may matter more than anything else. Choosing a bike only based on color though can lead to them not wanting to ride it because it it too heavy. The color can be changed with art supplies, colored duct tape, spray paint or other crafty options.
Weight
Let's talk about weight. A lighter bike will be easier and more fun for your child to ride. But, wait, aren't lighter bikes way more expensive? Yes, they are when they are new. I say more about this later in the post. Because children are growing so quickly at this age there are a great many used lighter weight bikes in lightly used condition available locally. So, a lighter used bike is a better deal and usually cheaper than a new heavy one.
Frame Materials
Usually, a children's bike with an aluminum frame will be lighter. This is important as a 16 lb (7.25 kg) bike may already weigh half of their body weight of a 32 lb (14.5 kg) 4-year-old. Imagine riding a bike that was half your body weight as an adult. If the goal of them biking is start a lifelong habit from experiencing a life altering moment of "whee – Gliding Freedom!" that might save them hundreds of thousands of healthcare and transportation dollars over their lifetime or just grin wider than their faces, consider a lighter bike. On a budget? No problem, keep reading. How much more expensive is a lighter bike? Not much or about the same as a new heavy bike if you find it used. I know, your neighbor/sister/friend already has a bike for your child and it's the right size. That might work, but if it's heavier it's going to be harder for your child to ride and less fun. Imagine if you were going for a bike ride on something that was 1/2 of your adult body weight.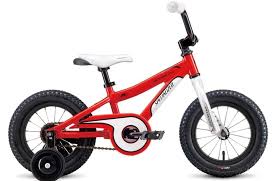 My favorite model of bike here in the United States is the Specialized Hotrock in 12′, 16″, 20″ and 24″ wheel sizes because it can usually be found on Craigslist for a decent price. Specialized has other models that are great as well, however the older Hotrock bike are more easily found. Sidenote, the one pictured above has training wheels which I don't use when teaching someone to ride without training wheels.
One can expect to pay between $50-250 USD for a used Hotrock depending on the model. If you are in the San Francisco Bay Area, Trips for Kids is a great resource for any used bike or parts. Where ever you live, do yourself a favor and find a family friendly bike shop or youth bicycle program.Of course, there are other great bikes out there. The Raleigh "Rowdy" is a crowd pleaser and there are many others not mentioned here. My children have both used a 16″ wheeled Stampede Sprinter which has a freewheel hub and decent parts including lock-on handlebar grips! If you want to get fancier still, take a look at Cleary Bikes (lightweight and made of steel) or Woom. We have 2 Woom bikes, and although I don't cover them here. They are amazing.

3. Explore Free And Used Options
Another option is to put out the "Specialized, Raleigh or Cleary – any Bike Wanted" call to friends, your school community and family. Children are always outgrowing bikes and looking to pass them on. Regardless, it doesn't hurt to ask.  Just know what you want and be ready to say "Yes, Please" or "No Thank You" to whatever comes your way. Tip: Being specific in your initial ask I'm looking for a "fancy such and such bike/16″ wheeled Specialized Hotrock" gives you more room to decline with "No thanks, we're looking for that specific model bike" than asking for "a bike" for your child. If you want to help your friend find another home for their bike besides yours, they can give it to another friend who might be looking or donate it.

My favorite used bike source for my own children has been the Trips For Kids Re-Cyclery Bike Shop in San Rafael, CA. Sales from their used bike shop support more bicycle opportunities for youth in San Rafael and across the country. I love their work and think that you will too. Bonus, they are also an outlet dealer, resell very lightly used Woom Bikes about what they cost on Craigslist.

And, if you are in San Francisco, the Bicis Del Pueblo program will take the bike and redistribute it back to a child.


Not ready for a new bike? Want to get the most out of the bike they already have?
Excellent. Be sure that it is still in rolling well by either taking it to the bike shop or figuring out how to tune it up yourself.
Bonus:  Here's a 5-minute video from Park Tools, makers of fine bicycle tools, and more to help you safety check your child's bike. Sidenote: Not all bicycle educators are men and a number of us are working on changing that.
Congratulations!
You are well on your way to finding your child a bike that works for them.
I hope that you will soon be enjoying a new found freedom. And, if somehow, at some point, your child goes on a bike strike and doesn't want to ride it's not the end of the world. Setting up a Biking Playdate or outings with peers they might look up to can tip the balance.
If you found this useful let me know in the comments.
Have great travels.
Jason